[MkS] Midwest Kill Squad
MkS-U.S.A
MWKS is a clan for Call of Duty Waw, and The Conduit, which is coming out soon in June.
If interested in Joining Contact me at mwksclan@yahoo.com
Or On Wiichat.com Username: slayer84
Must be past 1st prestige, level 56, and Have a 1.2 Kill ratio
ACCEPTING 10 or MORE PLAYERS WHO WANT TO JOIN. NO TRY OUTS NEEDED! UNTIL 6/15/09!!!
HOW MWKS was created- MWKS stands for midwest kill squad. it was made by kids who needed to join a clan, and said hey, lets make our own. And we did just that. We created this to make a nae for ourselves, promote new players, and make bad players into fantastic ones. The midwest kill squad is not for just people who live in midwest, usa, its for eveyone around the wolrd.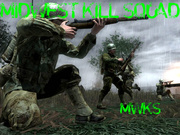 Forums
Contact The clan leader
EMAIL BELOW